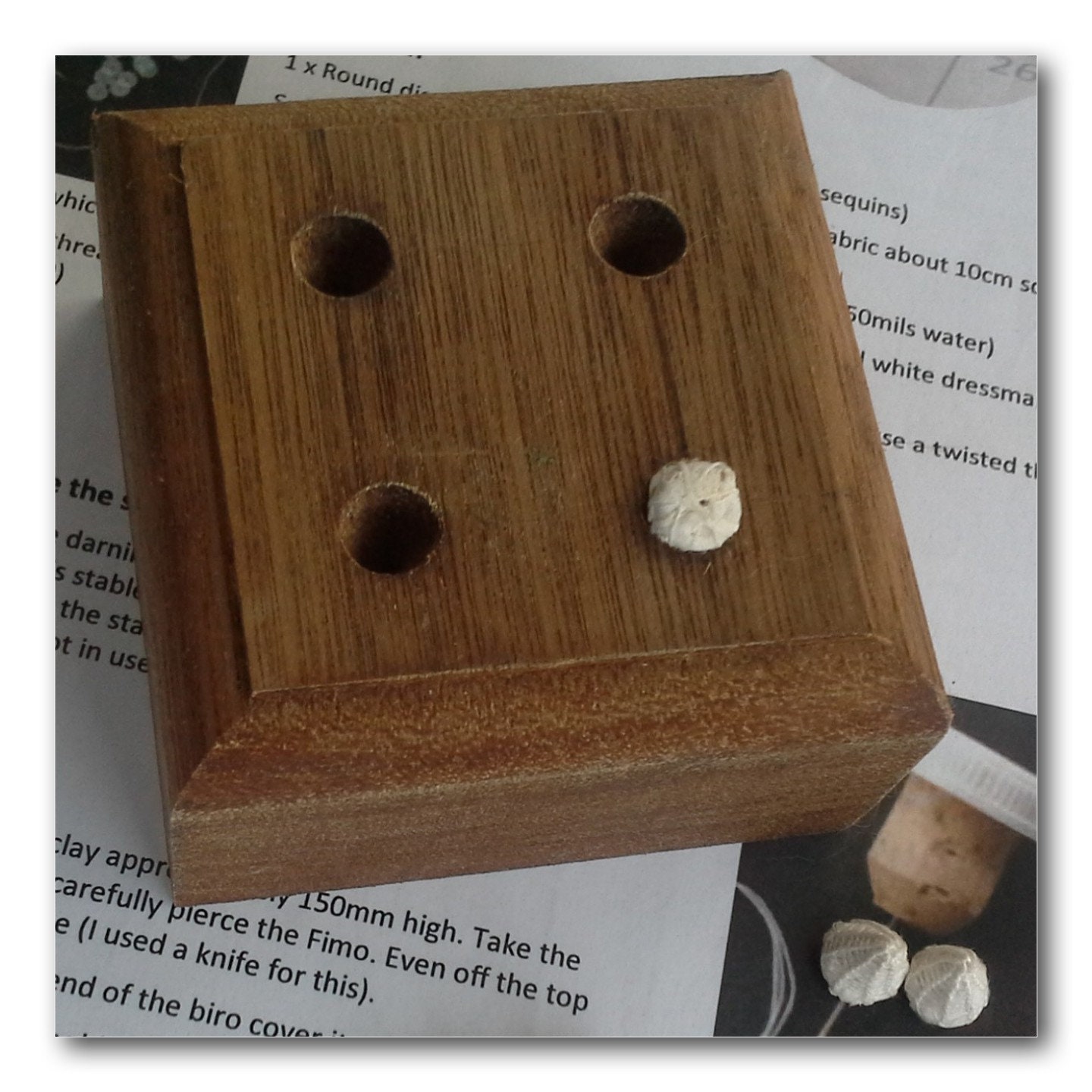 Dorset Button High Top Kit – Includes a block with four moulds for making Dorset 'High Top' Buttons
£40.00
slowwmo CIC supports vendors who have their store with Etsy by provding product links to that store. Checkout will be through the Etsy store, not through slowwmo. The term 'Etsy' is a trademark of Etsy, Inc. This application uses the Etsy api, but is not endorsed or certified by Etsy
Visit shop
Description
The High Top button was said to be the first of the Dorst Button range and made commercially when Abraham Case set up his cottage industry making thread buttons in the early part of the 1600s.
I have tried to recreate as closely as possible the very small original buttons. This block of four moulds for making Dorset 'High Top' Buttons is locally made from hardwood. Ideal for anyone who wants to make High Top buttons using the traditional method. A set of instructions will be sent with the moulds.
The four coned shaped moulds are of equal size with a 10mm diameter base and a height of around 12mm to the point. This is the average height and width of the original High Top Dorset Buttons.
Image number 1 – Wooden High Top mould made to order
Image number 2 – These are High Top buttons I worked for a commission using the same type of mould
Image number 3 – To make High Top buttons you will also need some basic equipment including a cork with a large darning needle to make the form (see image 4)
Image number 4 – The cotton lawn shapes to form the inner mould
Image number 5 – Shows the form on the tip of the darning needle.
Image number 6 – Shows the mould with six forms on the left and two completed buttons on the right
Image number 7 – Work in progress for a large commission. Bowls not included.
Each High Top Kit includes:
Full instructions on how to make these small High Top Buttons
1 x made to order wooden High Top mould. Each block of four moulds is approximately 8cm square with a height of round 4.5cm.
1 x basic cork with large sharp darning needle
1 x template for cotton lawn fabric shapes
1 x enough lawn fabric to make four High Top Buttons
8 x 8mm sequins for the base of the button
1 x thread to wrap around the inner button mould
1 x embroidery thread for the outside of the button
All you need are scissors and flour and water paste for the fabric.
Please note: Blocks are handmade to order so please allow time for delivery message or email me before ordering [email protected]
General Enquiries
There are no enquiries yet.