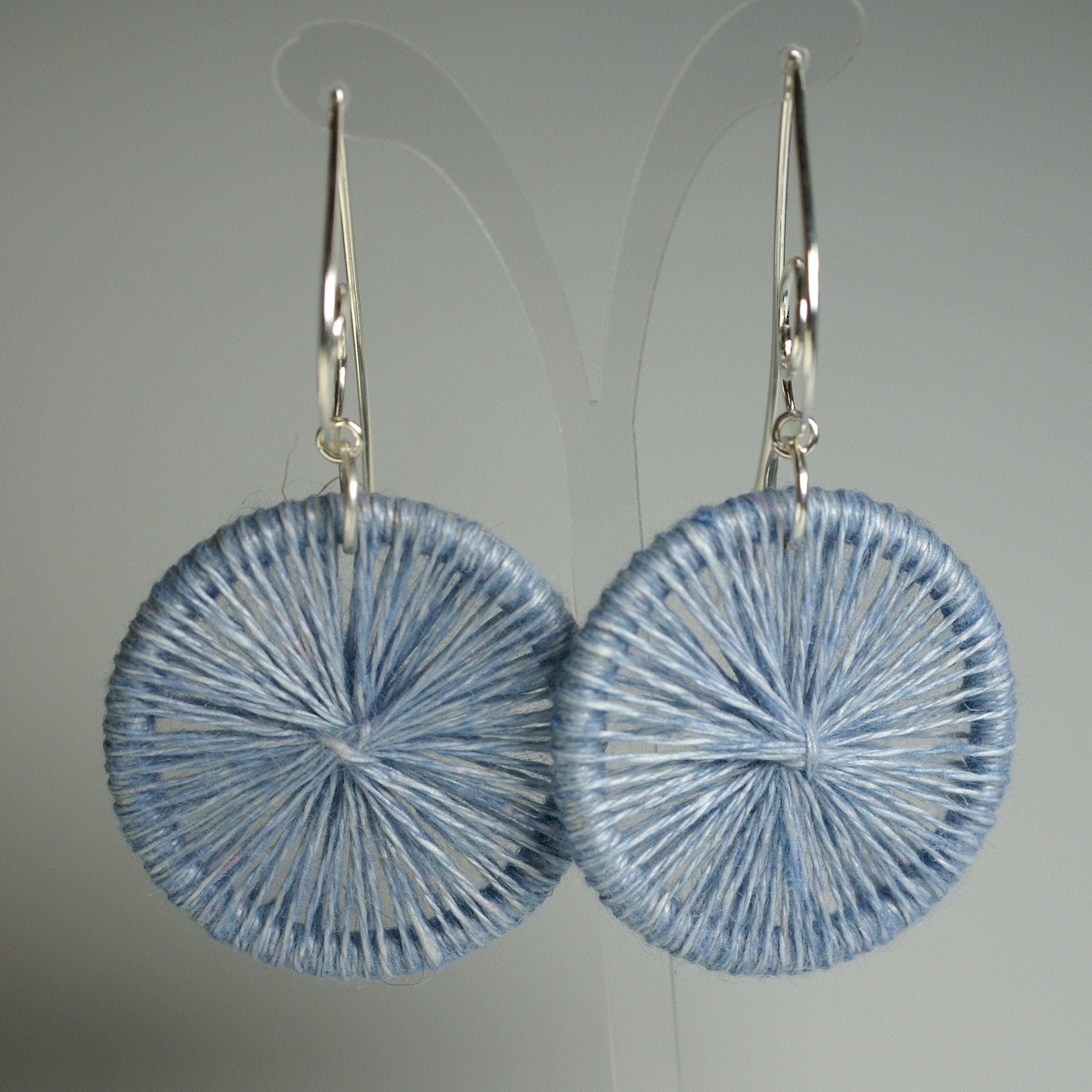 Blue Linen Dorset Button Earrings
£22.00
slowwmo CIC supports vendors who have their store with Etsy by provding product links to that store. Checkout will be through the Etsy store, not through slowwmo. The term 'Etsy' is a trademark of Etsy, Inc. This application uses the Etsy api, but is not endorsed or certified by Etsy
Visit shop
Description
These Dorset Button earrings are worked in linen on a 35mm hollow brass ring. The total drop of the earring including the finding is 65mm. I have worked these buttons in the Blandford Crosswheel design and to show off the yarn to its best advantage I have not worked the usual two rows on rounding on the inside of the ring.
The Dorset Button can be easily removed from the earring finding so are versatile and additional buttons can be ordered separately. Please click in the link below for made-to-order additional Dorset Buttons for earrings. The earring findings are silver plated.
https://www.etsy.com/uk/listing/889416039/dorset-button-earring-pendants-only-made?ref=shop_home_active_1
Earrings made from yarn has always been a favorite of mine. However, the type of yarn used is an important factor when I choose what to buy as I find some yarns, when worn next to my skin, brings me out in what looks like a heat rash. To avoid such allergies I use cotton, linen, and polyester yarns to work my Dorset Buttons.
The Dorset Button cottage industry originated in Shaftesbury in the 1620s and became a major cottage industry throughout east Dorset creating employment for many families. Dorset Buttons were replaced by buttons made by machines during the first half of the 1800s. To help keep this heritage craft alive, I use the original methods to work my Dorset Buttons but use contemporary materials. I also try out new designs and ways to use the skills of this heritage craft.
Some monitors do not show colours the same way as mine so please take into consideration that colours may be slightly different.
General Enquiries
There are no enquiries yet.